EngineeringTechnical Collage Basra, held workshops on waste sorting and recycling in the departments of Chemical and Petrochemical Engineering Techniques and Environmental and Pollution Engineering Techniques . An elite group of teaching staff participated in presenting them, consisting of Dr. Laila Blasim Hashem, Dr. Amjad Ahmed Ali, Dr. Alia Aqeel Muhammad, and the teaching staff, Raad Jabbar Mohsen.
The workshop topics included identifying waste and its types, represented by organic and inorganic waste, and waste that comes from hospitals and factories. The workshop also focused on plastic waste due to the excessive use of plastic because it is a lightweight, multi-colored material that insulates electricity and is not subject to corrosion. This has led to an abundance of plastic waste, which requires sorting it. And recycled.
The workshop presented recommendations that included turning to plastic waste management, creating a program within the work environment and at home to sort and recycle waste, reducing the use of single-use plastics and turning to paper use, and recycling waste to produce energy.
---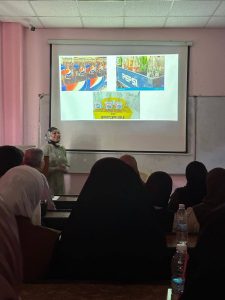 ---
---
---